$4.8 million grant from Walmart for Jacksonville Retail Career Advancement program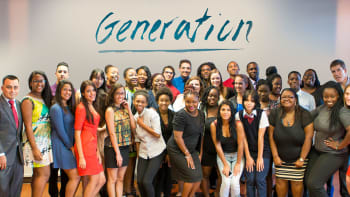 Grant to launch a Retail Career Advancement program in the Jacksonville Region to help increase Retail Job Opportunities.
JACKSONVILLE, Fla., October 25, 2017 — Generation, a global, youth employment non-profit organization, today announced it has received a $4.8 million grant from Walmart to launch the Retail Career Advancement program. The new program will support career advancement within retail and adjacent sectors in Jacksonville, Fla. The grant was announced at a symposium at the downtown Hyatt Regency Riverfront, connecting retail employers and local agencies including CareerSource Northeast Florida, the Jessie Ball DuPont Fund, the Chamber of Commerce and Firehouse Subs, to discuss how to retain and support high-performing employees in the retail sector.
In 2016, there were nearly 1,700 job openings for supervisors in the retail industry in Jacksonville. Research shows young adults have jobs in retail, but not enough advance because of a lack of skills and certifications, limited collaboration among employers or a lack of awareness for advancement. In addition, employees often leave retail jobs early on in their career or struggle to build career pathways for future promotion, and employers often have unfilled vacancies and high turnover.
The grant from Walmart will provide Generation with the necessary funds to teach current retail sector employees skills that are highly sought-after skills by employers, such as interpersonal skills, dependability, professionalism, teamwork and problem-solving, to help them become better workers and achieve higher retention rates. Generation will be able to connect regional employers and community resources, helping to build a talent pipeline for employers looking to advance high-performing employees.
Aiming to reach 1,200 incumbent workers in Jacksonville, Retail Career Advancement is a six-week, free-of-charge program where students will engage in training involving decision-making and ethics on the job, sales tactics, theft prevention and handling escalated customer concerns, and be prepared to successfully earn a nationally-recognized certificate from the National Retail Federation. In addition, trainees are offered individual mentors to provide personal and professional support, from mock interviews to coordinating child care services to transportation issues. Since 2015, nearly 200 students have graduated from Generation's two existing Jacksonville programs – Technology and Hospitality. This new program will expand to the retail sector.
"The generous funds from Walmart will allow Generation to bring Jacksonville's workforce development community together to prepare, attract, and retain top talent for retail jobs," said Mona Mourshed, president of Generation. "With Generation's ability to manage data and metrics, Walmart's commitment to creating opportunity, and Jacksonville's stalwart retail and economic development community, I am confident we have the right players involved to achieve exciting, positive results for the region."
The grant is an important part of Walmart and the Walmart Foundation's Retail Opportunity Initiative, a five-year, $100 million sector-wide effort launched in 2015 aimed at making it easier for front line workers to advance more quickly. Walmart and the Walmart Foundation are focusing on three key workstreams to accelerate mobility in retail: generating insights into retail as a sector of opportunity, building effective approaches to retail training and advancement and engaging retail employers to improve the workforce development system.
"Building a pipeline of future talent is not only good for business, but also for our society," said Kathleen McLaughlin, chief sustainability officer for Walmart, and president of the Walmart Foundation. "At Walmart, we want to make it easy for people to build skills that accelerate career advancement in retail. We are excited to support Generation in tailoring their innovative, proven training approach to benefit people working in the retail sector."
To date, 14,000 individuals have graduated from the Generation program, which prepares individuals for careers in 50 cities and 120-plus locations across five countries, in the technology, healthcare, retail/sales, and skilled trades industries. In the U.S., 87 percent of Generation graduates are outperforming their peers in overall performance, reported by employers and 97 percent of employers say they would hire Generation graduates again.
Interested students and employer partners can email jacksonville@generation.org for more information. Admissions and enrollment are open and rolling for the program.