ReGeneration Healthcare Employment Program launches in Birmingham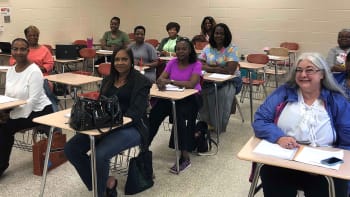 The Administrative Medical Assistant program launched by Generation, AARP Foundation, and Jefferson State Community College will reskill displaced workers over 40 years of age.
Generation and collaborating organizations AARP Foundation and Jefferson State Community College welcomed the first cohort of participants enrolled in a new Administrative Medical Assistant employment program. Designed for displaced workers age 40 and older, the ReGeneration program is funded by a $4.56 million grant from the U.S. Department of Labor. AARP Foundation will provide specialized career coaching and social support for participants.
"Generation is proud to launch this innovative program on the Jefferson State campus," said Generation COO Sean Segal. "With the support of the our partners, Jefferson State, AARP Foundation, and the U.S. Department of Labor, we'll connect hundreds of mature workers to a new career pathway in the growing healthcare industry."
ReGeneration is designed to confront the employment challenges and skills gap that older workers face when they make a career transition. Many workers over 40 years of age who began their career in a sector such as retail or manufacturing have been laid off due to the changing workforce landscape. At the same time, job openings in the Jefferson County healthcare industry are growing, but these positions require different skills.
"The ReGeneration Administrative Medical Assistant program will connect older workers with the skills and support they need to make a lasting career change," said Leah Bigbee, workforce readiness partnership manager at Generation. "Workers over 40 years of age bring a wealth of knowledge from their years of experience but need reskilling programs to remain competitive in today's job market. ReGeneration helps our participants develop those skills and excel in a new career."
Over the course of five weeks, ReGeneration participants will attend class on the Jefferson State campus where they'll engage in hands-on lessons that build essential, technical skills that employers are looking for in an administrative medical assistant. Topics will include maintaining patient records and privacy, using software to contact and schedule patients, and verifying insurance. At the end of the program, participants will have the opportunity to earn their Certified Medical Administrative Assistant (CMAA) credential.
"Jefferson State is excited to help bring this program to our community," said Jefferson State Director of Workforce Education Kay Potter. "It is important for us to provide a skilled workforce to business and industry, and this program will provide industry recognized credentials to students and provide businesses with qualified employees."
Alongside these technical skills, AARP Foundation has developed specialized coaching sessions about job search strategies and preparing for the hiring and interview process.
"Finding and keeping a good job today requires new and varied skills," said Emily Allen, senior vice president for AARP Foundation. "AARP Foundation's BACK TO WORK 50+ program provides skill building for older job seekers so they can compete with confidence for today's in-demand jobs. We are pleased to collaborate with Generation and Jefferson State Community College to provide training and support to older adults interested in administrative medical assistant positions in Birmingham."
The ReGeneration Administrative Medical Assistant program is accepting applications for its next cohort, which will begin on June 26. To learn more and submit an application, visit usa.generation.org/birmingham/ama